Incoming Agencies

For contracting matters, marketing or rates/offers please get in touch with:

Daniel Litwinski
E-Commerce and Partnership Manager
Polska
Tel         +48 22 572 65 42
E-Mail: d.litwinski@avis.pl



Incoming agencies can cooperate with Avis on a net rate basis. These competitive rates are available for your own calculation and have a validity of six resp. twelve months.

For Avis net rates, a minimum rental period of three days and an advanced booking term of at least one day is applicable.
Net rates are available for each country where Avis is represented.
The use of net rates is strictly combined with a minimum turnover and depends on the volume of reservations.
An Avis voucher account is mandatory for using net rates.
For further information, your application for an Avis voucher account etc. please send an e-mail to rezerwacje@avis.pl



We will create a link which will enable you to make online reservations in real-time using your rate code(s).
You will always receive a confirmation of your reservation and a voucher via e-mail which you can then print out and hand over to your client.
This microsite cannot be placed on your website and can only be used by incoming agencies for in-house use (reservation).

In order to apply for a microsite please send an e-mail to d.litwinski@avis.pl indicating the following details:

Re: application incoming agency microsite
Name of incoming agency, address, telephone and fax number
Agency number (IATA, TIDS or AAN)
Contact person (telephone and e-mail)
AV number (Avis account number)
If applicable, country default



Avis net rates can be booked via all common GDS (SABRE, Amadeus, Galileo, Worldspan).
We provide the necessary system-vouchers.



By indicating your agency number and your rate code(s) you can make telephone reservations via our Reservation Office +48 22 572 65 65 (Monday to Friday from 08:00 to 18:00). In this case you will issue the voucher yourself. We provide you with special blank vouchers. Please find details for issuing manual vouchers below :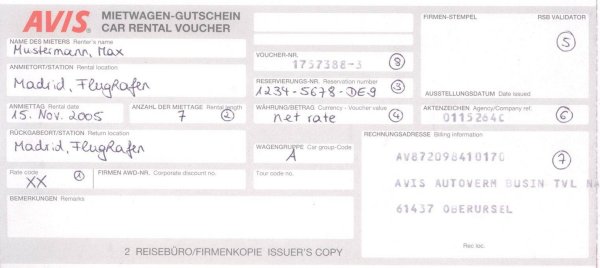 1) See the rate code (2-digits) in the rate sheets.
2) Attention: Please consider time of rental and return. A daily rate includes 24 hours from rental.
3) You will receive the reservation number when making the reservation.
4) Please enter here "net rate".
5) Please do not forget your company stamp (validator) and signature.
6) Your agency number is already pre-printed.
7) Your address and AV number are already pre-printed.
8) The voucher number is already pre-printed.
The manual vouchers include three copies overall. After issuing the voucher the first copy is for the rental station, the second copy remains with the issuing incoming agency and the third copy is for the client. You will give to your client the voucher booklet with the copies no. 1 and no. 3 .



You feel like going for a weekend tour through Poland?
Get in and spend an unforgettable weekend with Avis at fantastic favourable rates!
Please click here and make a reservation!



Please click here to get more information regarding a car rental with Avis worldwide.



With vehicles rented in the Czech Republic it is in gerenal not allowed to travel to:
Albania, Armenia, Belarus, Bosnia & Hercegovina, Bulgaria, Estonia, Greece, Kosova, Latvia, Lithuania, Macedonia, Moldova, Montenegro, Romania, Russia, Serbia, Turkey, Ukraine and any islands or other continents.

Infringements shall entail full compensation for damages for all direct or indirect damage up to the rental vehicle's full value and shall entitle the authorities to seize the vehicle at once.
In particular, impermissible attempts to cross borders shall entitle the authorities to seize the vehicle at once. In particular, impermissible attempts to cross borders shall entail cancellation of the right to continue using the vehicle. The lessee shall be liable for the vehicle's full value in a case of theft.

Exceptional regulation, to the extent arranged via stamp on the front page of the rental agreement apply to travel into Poland and Croatia contingent upon compliance with all the following terms and conditions:
 
Conclusion of limitation of liability for damage and in case of theft
Paymwent of a security surcharge according to negotiation of EUR 7.26/rental day (max EURv 72,60)
The vehicle may only be parked in supervised parking areas.
The vehicle's keys may not be given to a third party under any circumstances, including in particular for safekeeping or for manoevring the vehicle.